Eating Attiéké the modern way
Attiéké, Tomato Salad and Grilled Chicken Recipe
Attiéké is a side dish made from fermented cassava that has been grated or granulated. It is a traditional dish in Côte d'Ivoire and in Benin. It can be dried, then having the texture of couscous. Generally, the dish is served with Kedjénou, a spicy stew that is traditionally slow cooked in a sealed canari (terra-cotta pot) over fire or coals and prepared with chicken or guinea hen and vegetables. It is better to preserve Attiéké dry as the fresh Attiéké can easily get bad. The sauce could also be prepared with fish. Here is a recipe of a modernized way of eating Attiéké with tomato salad with grilled chicken.
Attiéké and tomato salad with grilled chicken for 2 people
Cooking time: 20 minutes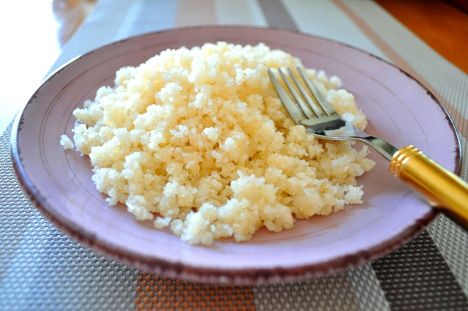 Ingredients:
500g of dry or frozen Attiéké; 1 large fresh tomato; 3 onion; 1 cucumber (optional); 1 lemon; salt to taste; Onion; Pepper or Chili sauce; 2 thighs grilled chicken (or fish); 2 tbsp oil; 1 cup water; Black pepper; A bulb of garlic.
Direction:
Step 1: Moisten the Attiéké flour with a cup of water.
Step 2: Use a steamer or a couscoussier (a traditional double-chambered food steamer used in Berber and Arabic cuisines to cook couscous), put the Attiéké in the steamer pot colander or towel in case you have a couscoussier and cook for at least 20 minutes.
Note: You also cook your fresh Attiéké in the microwave for 6 to 7 minutes
Step 3: When Attiéké is tender, transfer it in a bowl and add salt to taste and a tablespoon of vegetable oil (preferably peanut oil). Then smash with a fork.
Tomato salad: Cut fresh tomatoes, fresh onions and diced cucumber. Then add salt and add a few drops of lemon. Book aside.
Onion sauce: In a sauce pan, put a tablespoon of vegetable oil and let it get hot. Add onion and fry for two minutes. Then add tomato, black pepper, stock cube, lemon juice, minced garlic and cook for two more minutes. Add water and leave to boil until the sauce is thick.
To Serve: Dish Attiéké in a plate with onion sauce, grilled chicken (or grilled fish) and tomato salad, add some spice to your liking. You can also add bananas fried plantains (traditionally called Alloco).
Enjoy your meal!