A 25 Year Old Woman In Mali, Gives Birth To Nonuplets
History is making waves again, a 25-year-old woman from Mali, Africa, gave birth to nine babies, two more than her doctors predicted, in Morocco on Tuesday, 4th may 2021. The Malian government confirmed.
Halima Cisse and her rare pregnancy had fascinated people and leaders of the West African nation. After doctors suggested special care, concerning Cisse's welfare and the infant's survival, the government decided to intervene and authorities flew her over to Morocco.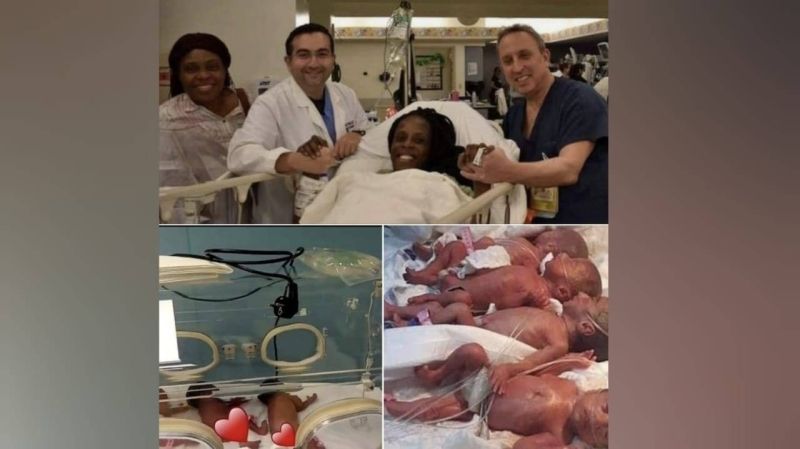 The 25-year old became a mother to five girls and four boys even though ultrasound conducted both in Mali and Morocco revealed only seven in the womb. Mali's health minister; Fanta Siby, said in a statement that both the mother and the infants were "doing well". All the babies were delivered through a caesarean section.
It should be noted that this is the fourth time such amount of birth delivery is recorded  in the world so far:
A woman who had eight babies in the US in 2009 holds the Guinness World Record for the most children delivered at a single birth to survive.
Two sets of nonuplets have previously been recorded - one born to a woman in Australia in 1971 and another to a woman in Malaysia in 1999 - but none of the babies survived more than a few days.
World record holder Nadya Suleman's octuplets have grown up and are now 12 years old. She conceived them through in vitro fertilisation.
Fanta Siby, Mali's health minister, congratulated the medical teams in Mali and Morocco for the "happy outcome".
Prof Youssef Alaoui, medical director of the Ain Borja clinic in Casablanca where Ms Cisse gave birth, told the AFP news agency that the case was "extremely rare, it's exceptional" - and a team of 10 doctors and 25 paramedics had assisted at the delivery of the premature babies.
They weighed between 500g and 1kg (1.1lb and 2.2lb) and would be kept in incubators "for two to three months", he said.

As per a BBC report, the mother and her newborns are expected to return home in several weeks. It is extremely rare to give birth to a set of nonuplets and complications during and after birth often mean that some of the babies do not survive.

                                                                                           Source: BBC