64 Things You Prolly Didn't Know About Big Man Dangote.
Oga Aliko is the wealthiest man in the African sphere. Everyone knows that! We mean...even two year olds know that thanks to the song by Nigerian celebrity, influencer and musician Burna Boy
For his 64th birthday (celebrated on April 10 2021), we at FabAFriq wanna celebrate our big man in our own way. Well, we can't offer him anything that will surprise him again (we know for sure!) but we can honor him and do a double shoot by inspiring you at the same time. We hope this article will challenge you to work your ass out so you will soon be featured for your own birthday. Maybe we are currently read by the new Dangote in the making...WE WANNA SEE YOU WIN like Dangote, Dangote...(Burna Boy Voice)
Let's get started!
1- Yes you know big man is the richest in Africa. But did you know Forbes listed M Billions as the richest person in Africa for the tenth year !??? We are just AWED.
2- Big man made nearly 2billions in 2020 ! Meanwhile the whole world was falling apart, somebody was busy stacking. This is the proof that crisis are opportunities for those who make sure they adapt. We hope the volume is good enough?!
3- Big man was born in a big family. Yes! We're talking generational blessing!! His family set the standards for him. This reminds us of something somebody great said: "You are the result of the five people you spend the most time with." In the same way, Africans (who are desiring of big time success and that equally wish it for their families) should understand that the base for higher grounds is the familial foundation. We don't mean there are no underground and ghetto billionaires or genuinely self-made in Africa, but if we want to see our beautiful continent return to the empire power, we have to make sure our children have good backgrounds and backups. Input equals output.
4- Big man studied at the Al-Azahar University (Cairo, Egypt.) which is the most prestigious school for Sunni Islamic learning. The school was at first a religious school, then non religious subjects were added to its program. The school offers huge opportunities for networking with international contacts. We understand where our boss learned rapid and global success.
5- Dangote studied BUSINESS..haaa! Are we really surprised??
6- Aliko started business while in primary school. His first business was a little lollipops trade. Thank God his parents never stopped his zeal and desire to test grounds; this set the pace for his life..
7- His uncle the late Alhaji Sanusi Dantata was his mentor and so much believed in him  he gave him his first big opportunity in business by giving him the necessary initial capital.
8- Boss started his official business ventures at 21. He relocated to Lagos and early on decided to get into commodities. We can see his intuition was already very sharp. His bet however wasn't only on that; he had made his analysis and we can all testify this was a hit. Having skills as a business planner is so very important if we wanna be successful. Never forget!
9- His story could be described as a one of 'expansion'. Not one of rags-to-riches. His family provided the grounds and medium for his glory and we are absolutely here for an African empire!
10- He has been awarded on 14 November 2011 as Nigeria's second highest honor, Grand Commander of the Order of the Niger (GCON) by Goodluck Jonathan.
11- Big man is a firm believer in Africa and reinvests most of his resources in the continent.
12- His companies have about 12,000 staff nationwide and it is said that with his new investments and projects, this will high up to 22,000 people for Dangote Group in 2022! Did you say employment !? Boss doesn't make himself rich. He's taking the whole of Africa! (Anyway those that he can..)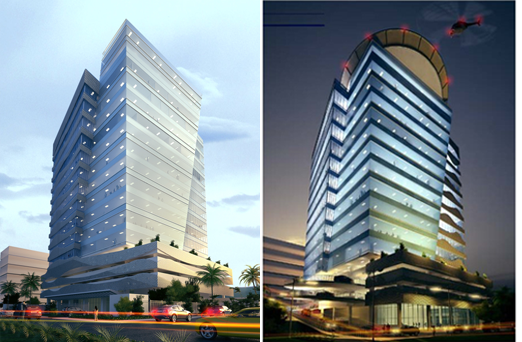 13- He donated 150 million naira to stop  the spread of Ebola in 2014.
14- According to Forbes magazine, the subsidiary of the mogul produces 45.6 million metric tons of cement every year and operates in 10 African countries (Nigeria, Cameroon, Ghana, South Africa, Zambia, Ethiopia, Senegal, Congo, Tanzania, Sierra Leone)
15- Dangote owns the world's third-largest sugar refinery and we are full of faith for the first place in some years!
16- All of his publicly traded companies make up a quarter of the market capitalization of the Nigerian Stock Exchange.
17- Dangote's grandfather, Sanusi Dantata, was once named one of the wealthiest people living in Kano. Hashtag bloodline...
18- Dantata was selling commodities. He was the source of wisdom and inspiration of our big man.
19- Dantata raised Dangote after his father's death in 1965.
20- In an interview with Forbes, Dangote claimed that on his best days, he was realizing a daily net profit of $10,000 in the first years of starting his soft commodities business.
21- He repaid his uncle's money in three months! YES! YOU CAN PAUSE TO SHOUT WOW!
22- In 1997, Dangote realized that acting as a middleman was a very costly endeavor, so he built a plant to produce what he had been importing and selling for the previous 20 years: pasta, sugar, salt, and flour.
21- Dangote has always reinvested the majority of his profits back into his businesses—one reason the company has grown so much since inception.
22- Contrary to what someone might believe, Dangote doesn't keep his money in banks...He is a full time investor.
23- Dangote has equally entered the oil and gas company. He is working on a massive oil refinery in Lagos, which is projected to start operations in late 2021.
24- Aliko Dangote is a leading philanthropist and founded his eponymous private charitable foundation in 1994.
25- His charity is dedicated to adding value to people's lives across Africa by supporting health, education, and economic empowerment initiatives.
26- His charity started partnering up with the Bill and Melinda Gates Foundation in 2013. Don't we say like attracts like?
27- Aliko Dangote is a bachelor and not currently married...ladies you have your chance! Well, if you have the chance to meet him in the first place..
28- Big man has a lot of interests in politics. In 2003, he played a very prominent role in the funding of Olusegun Obasanjo's re-election bid, to which he gave over 200 million naira and also contributed 200 million to the Presidential Library.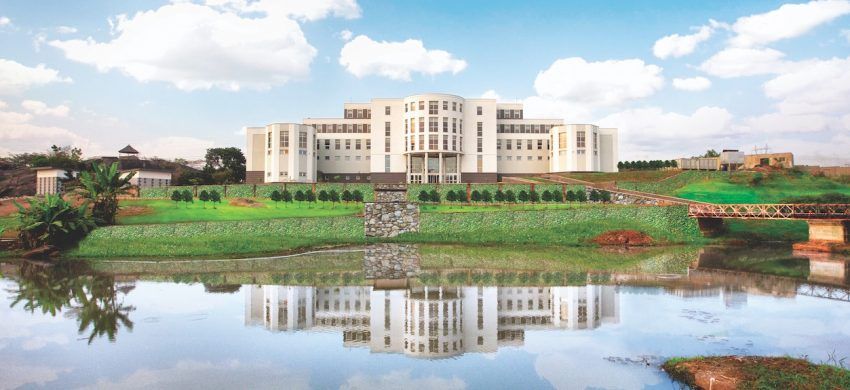 29- Dangote is not only the richest African man. He also is THE RICHEST BLACK PERSON in the world.
30- His mother's name is Hajia Mariya Sanusi Dantata. Daughter of the big Kano business mogul.
31- His second daughter Hakima Dangote is the Executive Director, commercial operations of Dangote Group which proves that he is not a sexist and encourages women empowerment.
32- His ex wife and mother to two of his daughters Hajia Zainab and him got divorced without any public scandal. This is proof big man is a private and calm man, avoiding drama and keeping his family safe and sound.
33- Big man equally has a "big heart"...hummm! No comment. He has been married twice and we want to believe there's enough space for a third person to fit in again...
34- Dangote has an adopted son Abdulrahman Fasasi.
35- Dangote was named as the Forbes Africa Person of the Year 2014.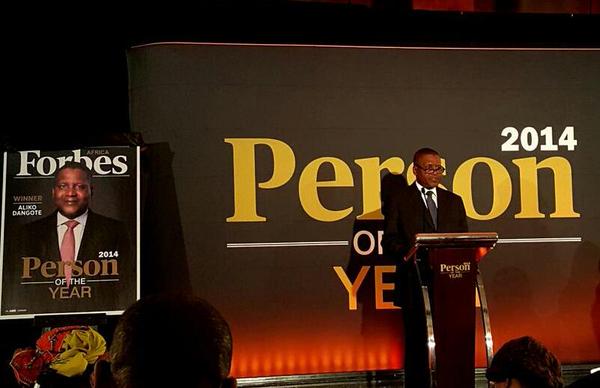 36- For six consecutive years, (2013, 2014, 2015, 2016, 2017, and 2018) Forbes listed him as the 'Most Powerful Man in Africa'
37- In 2014, big man was listed CNBC's 'Top 25 Businessmen in the World' that changed and shaped the century.
38- In April 2014, TIME Magazine listed him among its 100 Most Influential People in the World.
39- In October 2015, Dangote was listed among '50 Most Influential Individuals in the World' by Bloomberg Markets.
40- He won 'The Guardian Man of the Year 2015.
41- He won the '2016 African Business Leader Award,' organized by the Africa-America Institute (AAI)
42- Dangote was cited as one of the Top 100 most influential Africans by New African magazine in 2015, 2017, 2018 and 2019.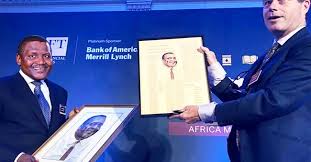 43- Big man sits on the board of the Corporate Council on Africa, and is a member of the steering committee of the United Nations Secretary-General's Global Education First Initiative, the Clinton Global Initiative and the International Business Council of the World Economic Forum.
44- He was named Co-chair of the US-Africa Business Center, in September 2016, by the US Chamber of Commerce.
45- In April 2017, Aliko joined the Board of Directors of the Clinton Health Access Initiative.
46- Dangote has diversified into telecommunications and has started building 14,000 kilometers of fiber optic cables to supply the whole of Nigeria. As a result, Dangote was honored in January 2009 as the leading provider of employment in the Nigerian construction industry.
47- He is an absolute fan of patriotism and unity. Big man once said: "If you give me $5 billion today, I will invest everything here in Nigeria. Let us put our heads together and work."
48- He contributed N50 million (US$500 Thousand) to the National Mosque under the aegis of "Friends of Obasanjo and Atiku".
49- In March 2020, big man donated 200 million naira (US$500,000) towards the fight against the spread of COVID-19 in Nigeria.
50- Aliko Dangote, (as well as Femi Otedola) promised to give the Super Eagles of Nigeria US$75,000 for every goal scored in the Africans Cup of Nations (AFCON) 2019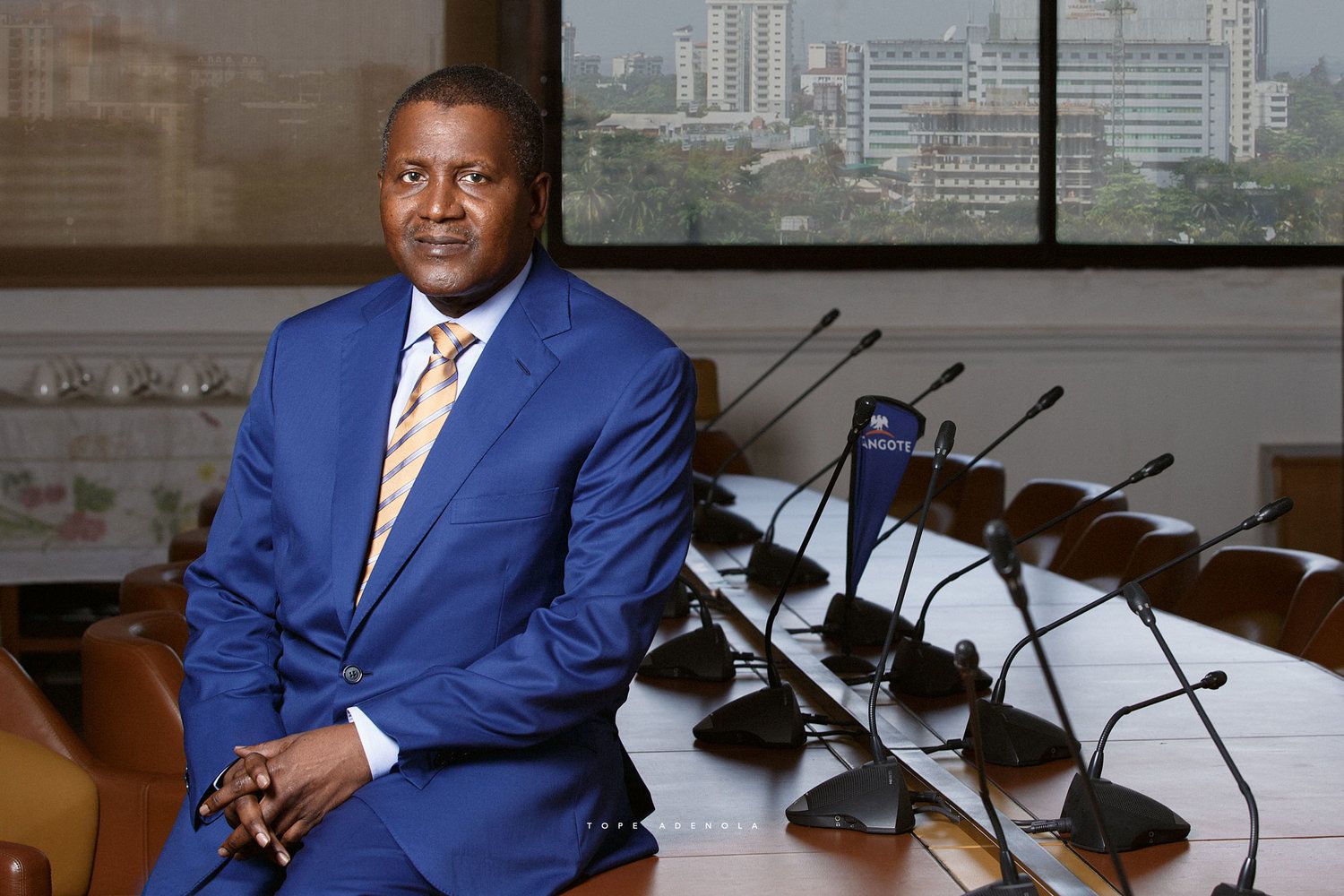 To keep you inspired, here are 14 secrets to the Big Man's massive success, from the Man of the decade Himself.
51- "Manufacture, don't just trade. There is money in manufacturing even though it is capital intensive. To achieve a big breakthrough, I had to start manufacturing the same product I was trading on; which is commodities."
52- "To succeed in business, you must build a brand and never destroy it."
53- "Don't kill the competition. Competition is healthy for businesses. It keeps you the entrepreneur on your toes."
54- "To build a successful business, you must start small and dream big. In the journey of entrepreneurship, tenacity of purpose is supreme."
55- "Have connections and pray for a big break. To survive in business, you must strengthen your business connections and network. And most importantly, you must pray for a big break. Big breaks are very vital to entrepreneurial survival. In fact, I can hardly point to any successful entrepreneur that wasn't thrust upwards by a big breakthrough."
56- "Believe there is money to be made in your country."
57- "All work and less play makes Jack a rich man. I enjoy myself a lot but I derive more joy in working. I believe in hard work and one of my business success secrets is hard work. It's hard to see a youth that will go to bed by 2am and wake up by 5am. I don't rest until I achieve something."
58- "Working hard alone doesn't guarantee success, you must also work smart."
59- "Give back to those who made you. Like Andrew Carnegie rightfully said: 'No man becomes rich without himself enriching others.'"
60- "Obey the laws of the land. Why risk going to jail by engaging in illegal businesses when it is easier to make money legally?"
61- "Have a goal. And a different kind of spirit. After my death, I want to be remembered as Africa's greatest industrialist."
62- "Listen To People. For you to be a good leader you have to be a good listener."
63- "Be consistent. Businesses hate it when you flirt with them and if things don't work out you move on to something else. Yes, businesses are jealous entities."
64- "Have the right information. With the rise of the internet, there is a lot of information being shared and if you aren't careful you could stumble on the wrong information. To become successful, Learn to filter through various types of data and articulately select the best information that's key to your business or path."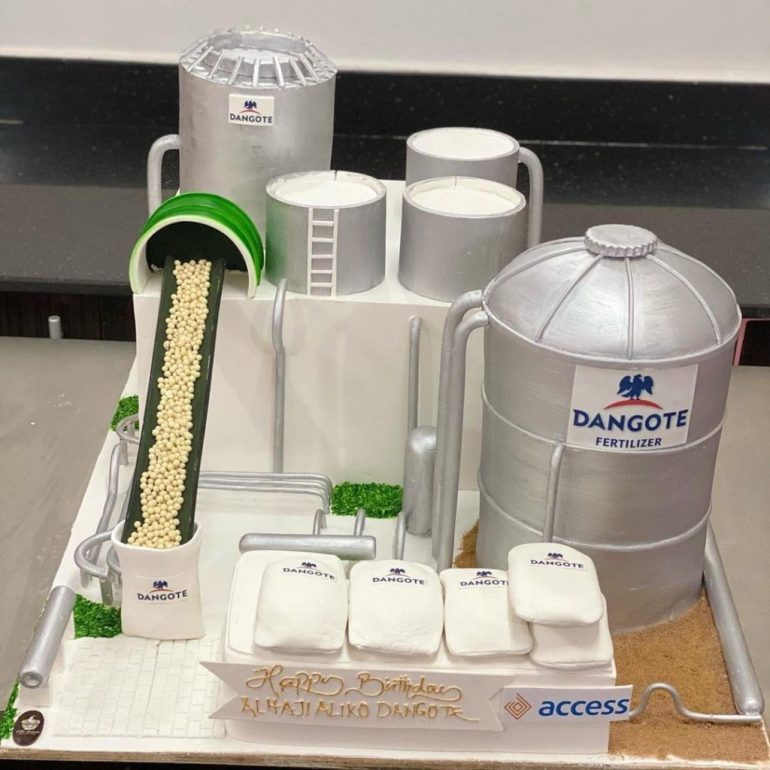 We hope you loved this long but so inspiring tribute to our favorite big man in Africa, pop over for some left-over cake. And if it was your birthday too, we wish you the happiest of birthdays and hope you'll soon be featured with us! Don't forget to share with someone who would loooveee to read this!
Stay Fab!