Tuo Zaafi & Ayoyo Sauce, Ghanian Delicacy
The food of Northern Ghana is dominated by the use of grains, herbs, and meat, as these are the primary food products of the region. Tuo Zaafi is similar to banku, although it is quite soft and less sticky, and is made by cooking the corn dough and adding a little cassava.

How to Cook Tuo Zaafi and Ayoyo Sauce
Tuo Zaafi is commonly made with maize flour or millet flour and it is soft in nature and a little sticky when felt between the hands. It is normally eaten with any soup but most commonly with Okro soup.
Ayoyo soup is made using jute mallow leaves. These also go by different names across west Africa, including ademe, or ewedu, molokhia.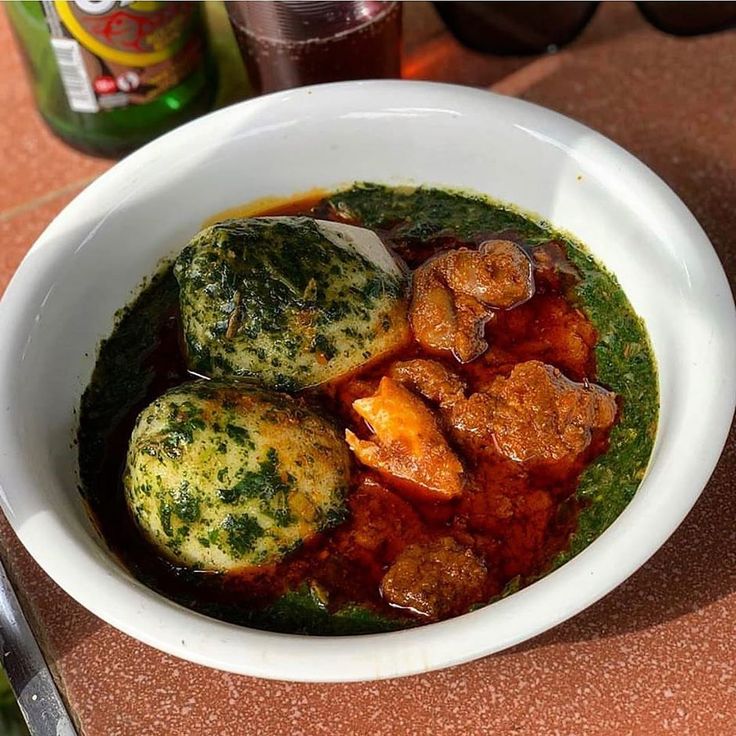 I- Tuo Zaafi
Ingredients
2 cups of water
1 cup of  Cassava flour
1 cup of Corn flour
Preparation time : 10 minutes
Cooking time : 25 minutes

Instructions
1. Boil 2 cups of water in a pot, until it is boiling.
2. Scoop 1 cup of corn flour and mix with cold water. Stir thoroughly until the mixture is consistent.
3. Add the mixture to the boiling water and stir with a wooden pestle, taking care to avoid any lumps. Once fully mixed, leave it to boil for 8 to 10 minutes. Then scoop out about a third of the mixture to use later.
3. Add the remainder of the corn flour to the boiling porridge mixture, and stir with the wooden pestle as the mixture gradually solidifies. Add the flour bit by bit, and continue to stir. As needed, add the set-aside mixture to the pot to keep the mixture moist at all times.
4. After stirring for 20-30 minutes, the Tuo Zaafi should be ready. Scoop a bit and mould into somewhat round shapes, or directly into the serving dishes.
Do not forget to wash your hands with soap under clean running water.
II- Ayoyo Sauce
Ingredients
A bunch of fresh Ayoyo leaves
Smoked fish
Beef meat
Water
Salt
Preparation time : 20 minutes
Cooking time : 20 minutes
1. Thoroughly wash the Ayoyo leaves and cut into tiny pieces (if using fresh leaves), or if using frozen ones, allow to defrost or defrost in a microwave.
2. Put 1 cup of water in the pot, place on the stove, and turn heat to high until water boils. Then lower the heat to medium.
3. Add the Ayoyo to the boiling water and stir periodically with a wooden pestle until the leaves break up in the water, and it starts to froth and bubble. As desired, you can add smoked and beef meat and salt to the Ayoyo for additional flavor.
4. Lower the heat to low, and continue to stir for another 10 minutes. Then turn off the heat, and set aside the Ayoyo mix till you're ready to serve.
Enjoy yourself!!!
Bon Appétit!!!