Titilayo Adedokun-Helm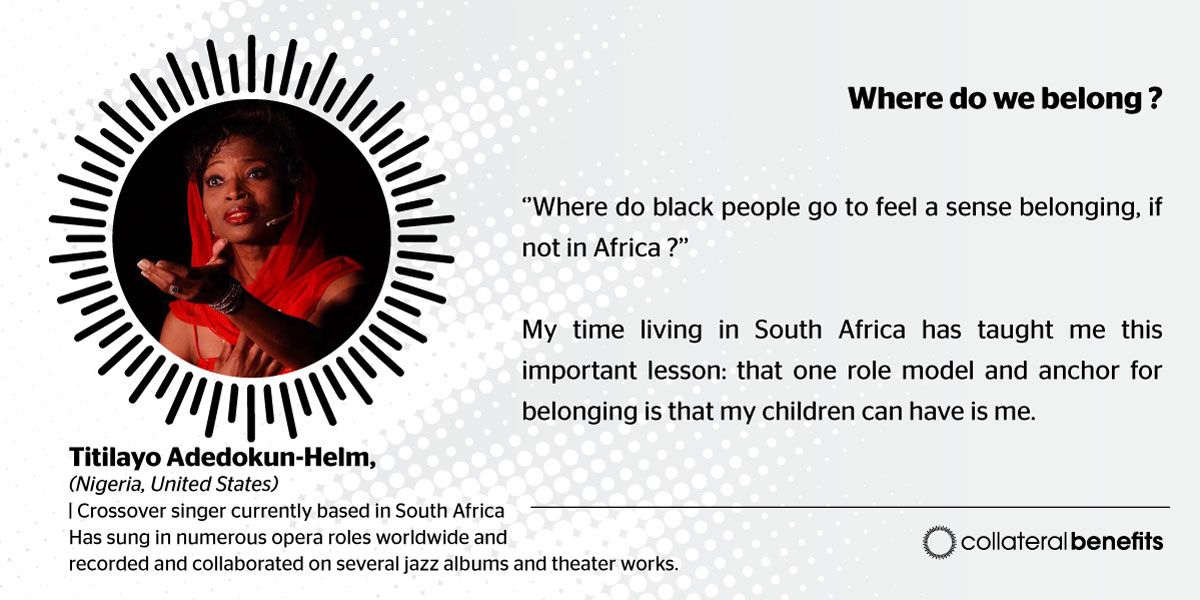 Titilayo Adedokun-Helm (Nigeria, United States) is a crossover singer currently based in South Africa and has sung in numerous opera roles worldwide and recorded and collaborated on several jazz albums and theather works. She is married with three daughters.
Finding a sense of belonging has been a journey – and as a mother, it is important that my daughters have role models that demonstrate that they too belong. My journey began when visiting South Africa for the first time with my husband in 2008. I was looking forward to finally seeing the country and to coming "back" to Africa. But from our arrival at the airport to our hotel stays on the Garden Route, I kept wondering if we were really in Africa. With the "n***** go home!" segregation posters in American history still resurfacing in my nightmares, I had naively thought that being in Africa would be less foreign, more warm embrace. As uncomfortable as it had been to be harassed in America or Europe, I discovered that South Africa was no different. On the southernmost tip of the so-called "Black Continent", black people were cleaning, washing, gardening, waiting tables, and resigned to being spoken to in dismissive and disrespectful tones by white people.
"So," I asked myself, "where do black people go to feel a sense belonging, if not in Africa?" Five years later, we moved to Cape Town with our three daughters. I thought that, by promising myself to always be of service and to refrain from being part of the problem, I could carve out my own identity and create my own sense of belonging. I convinced myself that, even with the racial injustices and inequalities, it would be a better environment to raise our children, giving them a chance to see everyday positive role models who looked like them. I had truly believed that, with a brand new and fair constitution, South Africa would be a force to reckon with in the near future. Now, I have now begun to accept the difficult realisation that I will most likely leave South Africa for the very same reasons I came… But, my time living in South Africa has also taught me this important lesson: that one role model and anchor for belonging that my children can have...is me.
Read the full paper on www.collateralbenefits.africa