African Pop Culture Shapes The World Around Us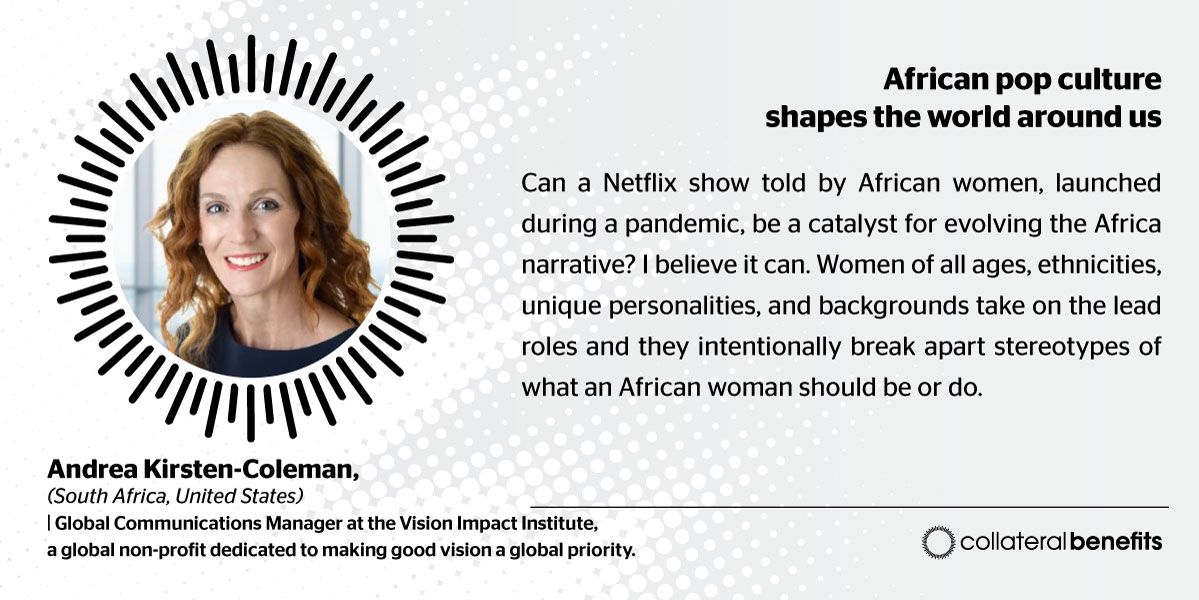 Andrea Kirsten-Coleman (South Africa, United States) is the Global Communications Manager at the Vision Impact Institute, a global non-profit dedicated to making good vision a global priority. She has expertise working for organisations that fight for social justice, health equity, and is passionate about telling the stories of those empowering women and girls in Africa.
Can a Netflix show told by African women, launched during a pandemic, be a catalyst for evolving the Africa narrative? I believe it can. Queen Sono, Netflix's first original African series was launched in early 2020 and quickly shot into the most watched lists by people globally. Set in South Africa, the cast of women smash stereotypes and reshape the African story. The series centres on a secret agent, played by Pearl Thusi, and manages to do something that few just-for-entertainment shows do. Firstly, it portrays women as the strongest characters. Women of all ages, ethnicities, unique personalities, and backgrounds take on the lead roles and they intentionally break apart stereotypes of what an African woman should be or do. In an article for OkayAfrica, Thusi says, "I want other women to see themselves in this. Women are the heroes of this show…[and w]e are still heroes of this continent." Secondly, it showcases Africa as a continent of diverse countries and cultures. By highlighting diverse locations like Zanzibar, Harare, Congo and South Africa and by featuring a pan-African soundtrack and diverse wardrobe, the show dispels the notion that Africa is a single story. It is pop culture. But pop culture has the power to shape. A clear example: in the University of Southern California's 2019 Africa in the Media report, we see that 'Black Panther's fictional African homeland, Wakanda...placed fourth behind Egypt, South Africa and Kenya in our rankings of most mentioned countries', just one month after it's release. Moky Makura, Executive Director of Africa No Filter, reflects on this emphasising, "The fact that Africa's fourth most talked about country doesn't exist tells us …[that] pop culture is a powerful tool for narrative work". Shows like Queen Sono give me hope. In a world that will not return to the way of life we once knew, it's refreshing to consider that African women can and will have an impact on shaping life as it really should be.