Manipal Hospital, Introduces Wellness @ Work conference
Manipal Hospitals, conducts "Wellness at work" program to promote the importance of corporate wellness plans and employee wellbeing
August 31st, 2022: With the aim of creating public awareness for the welfare of employees at work, Manipal Hospitals will be conducting a webinar on August 30th, 2022. This conference will provide a platform to renowned expert panelists from different parts of the globe to emphasize the importance of introducing a long-term sustainable program at the workplace. Along with these experts, doctors from Manipal Hospitals, India will focus on major health issues that are becoming increasingly common among company employees, such as ergonomics, cardiovascular ailments, back pain, stress, breast cancer, and common gynecological problems. You tube link https://youtu.be/sFUbE2FwOXg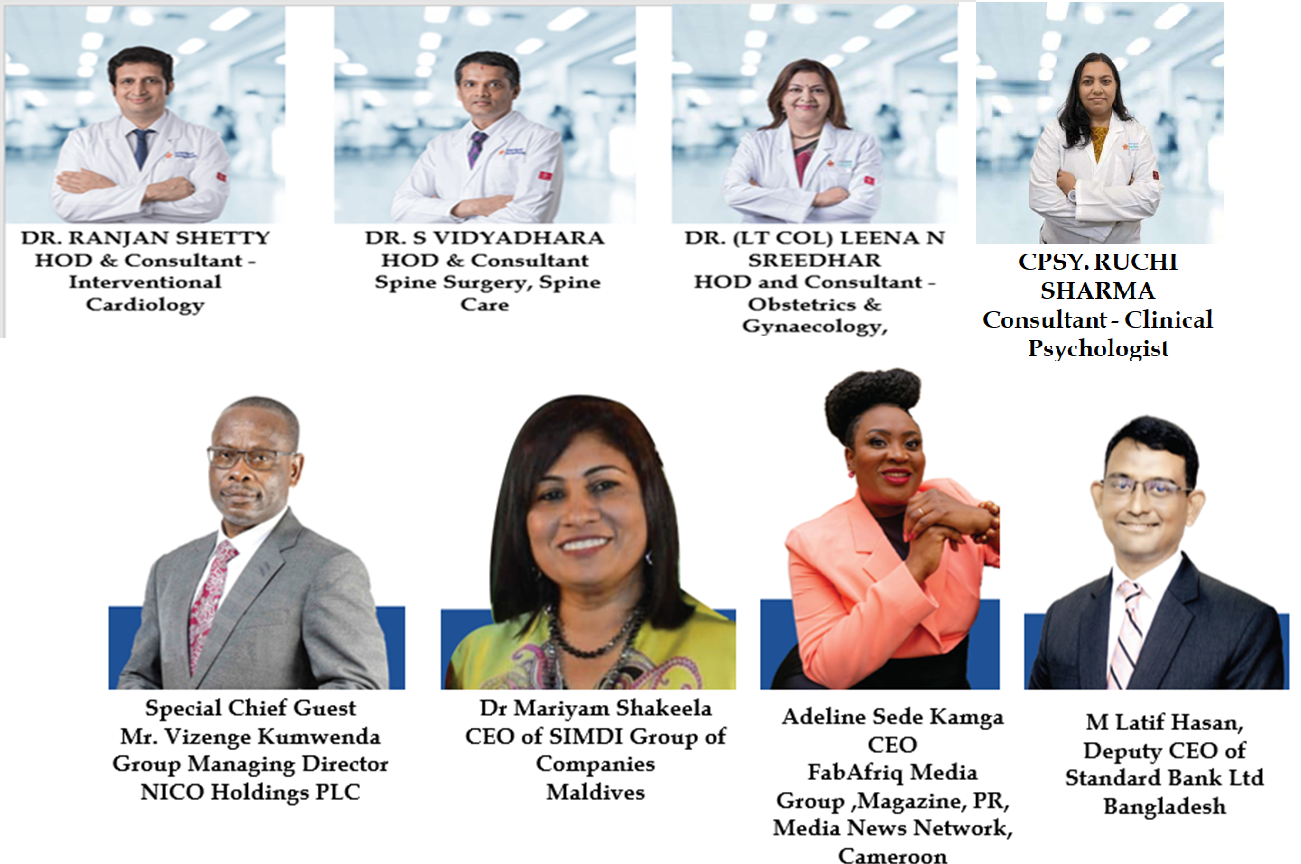 In recent times, many organizations have realized the importance of corporate wellness plans as they are an essential component of their benefits packages for recruitment and retention. Moreover, it provides a healthier, more productive, and more motivated workforce. As these programs continue to evolve, companies are now actively looking for ways to make their plans more creative, effective, and comprehensive. This is done to educate and motivate employee awareness of good health and to focus on their physical, financial, mental, and emotional, health and social well-being. We had around 350 plus audience from across 10 countries, 2 sessions and 10 specialists
Adeline Sede Kamga, CEO FabAfriq Media Group, Magazine, PR, Media News Network, Cameroon said, "This webinar will encourage participants to take the initiative to actively learn about and make decisions toward a successful life, both as individuals in society and at work. As an employer, it is important to ensure that workplaces have personal health resources that can encourage and support employees' attempts to enhance their personal health practices and lifestyles as well as monitor and support their physical and emotional well-being. Being driven and innovative employers, Manipal Hospitals has put out a lot of effort to break down barriers and support the personal health objectives of their employees."
Emphasizing on the importance of employee wellbeing, Vikas Tayer, AVP & Head International Healthcare Services, Manipal Hospitals, India said, "We understand the challenges that employees face at work. The prevalence of WFH culture has further escalated the need to maintain a proper work-life balance. This program aims to improve the health and well-being of employees and create a healthy workplace that is diverse, productive, and resilient. In a larger picture, this summit also aims to enable organizations to create a culture of wellness from the grassroot level and reflects the company's strategic vision. The program will cover the most up-to-date trends, best practices, and innovations in corporate health and wellness, and solutions to sustain engagement, enhance productivity, and promote healthy behavior and increase ROI."
Manipal Team of Experts: DR. RANJAN SHETTY, HOD & Consultant - Interventional Cardiology / DR. S VIDYADHARA, HOD & Consultant - Spine Surgery, Spine Care/ DR. (LT COL) LEENA N SREEDHAR, HOD and Consultant - Obstetrics & Gynecology, & Dr. RUCHI SHARMA Consultant - Clinical Psychologist
Panel Members: Mr. Vizenge Kumwenda, Group Managing Director, NICO Holdings PLC, Malawi – Special Guest /Dr Mariyam Shakeela, CEO of SIMDI, Group of Companies, Maldives/ M Latif Hasan, Deputy CEO of Standard Bank Ltd, Bangladesh /Adeline Sede Kamga, CEO, FabAfriq Media Group, Magazine, PR & Media, News Network, Cameroon
Highlighting the common health issues among working women and Men, experts view Stress, lack of sleep, absence of physical activity, sitting for long hours, workload and poor eating habits lead to serious illness in working moms. They are prone to health disorders such as anxiety, depression, heart diseases, obesity, insomnia, asthma, arthritis, psychological issues, high blood pressure, thyroid problems, body aches, and fatigue. Job stress among working women leads to a higher chance of getting cardiovascular diseases. Most working women also believe that their primary responsibility, their child, is being neglected because of their work. As a result, they also become victims of frustration, guilt and depression."
About Manipal Hospitals
As a pioneer in healthcare, Manipal Hospitals is India's second-largest multi-specialty healthcare provider treating over 4 million patients annually. With its recent acquisition of a 100% stake in Columbia Asia Hospitals in India, the integrated organization today has an enhanced pan-India footprint with 28 hospitals across 15 cities with 7,800+ beds with a talented pool of 4,000+ doctors and 10,000+ employees. Its focus is to develop an affordable, high-quality healthcare framework through its multispecialty and tertiary care delivery spectrum and further extend it to out-of-hospital care. Manipal Hospitals provides comprehensive curative and preventive care for a multitude of patients from around the globe.