Gored Gored, A Taste Of Ethiopia
Gored Gored is a tasty Ethiopian and Eritrean dish.
Raw beef cubes, nutty gite or round gite seasoned with niter kibbeh, spiced clarified butter, local spice powders such as berbéré and mitmita, and awaze, a spicy sauce, make up Gored Gored.
It can be eaten alone or with injera, an Ethiopian pancake.
I-  The Process
The quality of the meat is critical. The preparation is straightforward. Simply cut the meat into cubes as usual.
This step should be done at the very end to avoid bacterial contamination of the meat.
Gored Gored can be spiced up with araqi, which is a grain-distilled alcohol.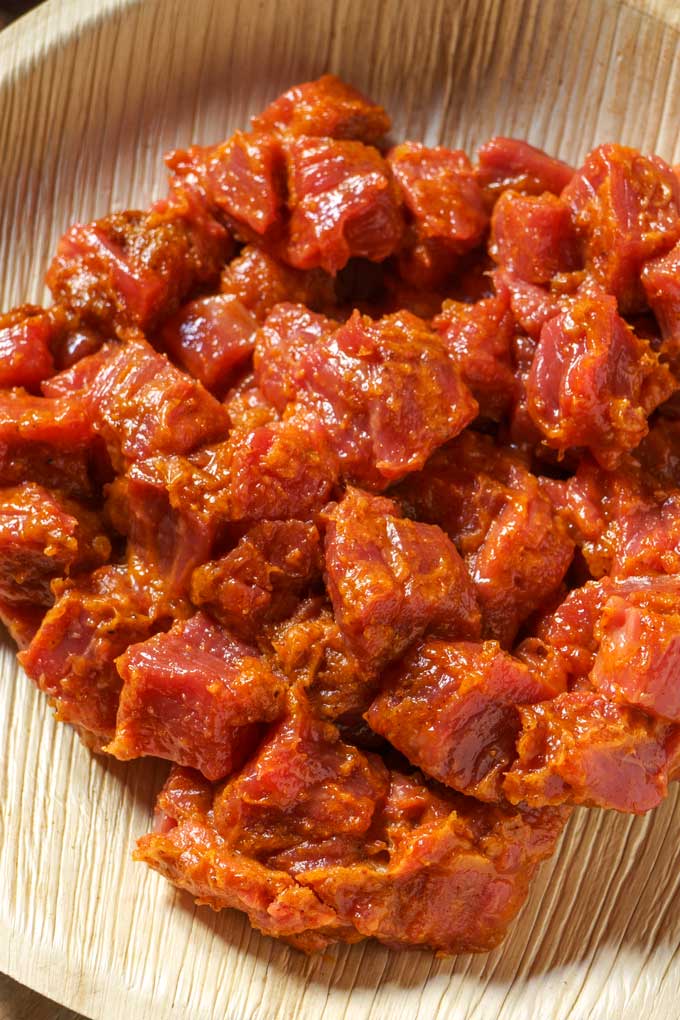 1- Gored Gored
Preparation time : 10 minutes
Cooking time : 10 minutes
Ingredients :
- 500 g of uncooked beef (tenderloin, heel, or round heel)
- 6 tbsp melted and hot niter kiber (Ethiopian clarified butter)
- 1 teaspoon of berbéré
- 1 tablespoon of mitmita
- 1 tablespoon of awaze
- Salt
Materials :
- 1 cutting board
- 1 large, razor-sharp knife
Method :
1- Cut the meat into small 1.5 to 2 cm cubes on a very clean cutting board with a large, very sharp knife.
2- Place the beef in a mixing bowl.
3- Combine the berbéré, awaze, and mitmita in a small bowl and spread over the beef. Season with salt to taste.
4- Mix by hand to infuse all of the flavors into the beef.
5- Stir in the niter kibbeh one tablespoon at a time until the meat has a shiny sheen.
6- Serve with injera and/or rice, and possibly more awaze.