By Dr. Yabome Gilpin-Jackson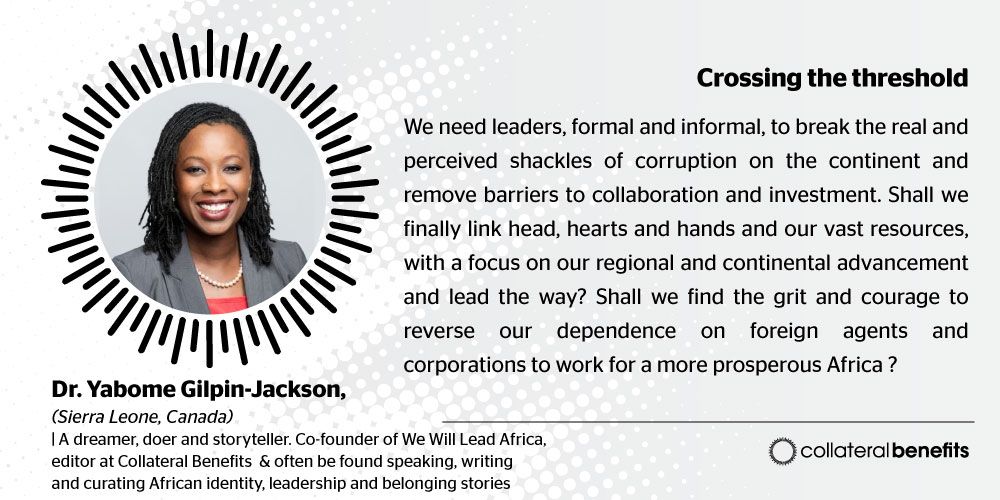 Dr. Yabome Gilpin-Jackson (Sierra Leone, Canada) is a dreamer, doer and storyteller, committed to imaging and leading the futures we want through award-winning human and organisation development scholarship and practice. She is co-founder of We Will Lead Africa, editor at Collateral Benefits and can often be found speaking, writing and curating African identity, leadership and belonging stories.

The Irish Philosopher John O'Donohue said "a threshold is not a simple boundary; it is a frontier that divides two different territories, rhythms, and atmospheres." Our continent is on the cusp of a threshold. We are shifting from a continent that has endured extraction of its people and resources, to one that is poised to lead the world. We have the youngest population, growing economies, an awakened consciousness to the politics and policies of a world system that threatens our progress and are experimenting and leapfrogging with mobile technologies and innovation. In the present moment of 2020/2021, we have also weathered the storm of COVID-19 pandemic better than expected. As the rest of the world locks down and focuses on nationalistic agendas and makes it clear that African immigrants (see here and here) and peoples of African descent are not welcome (see Africa Reacts to #blacklivesmatter), perhaps the moment has arrived to make our crossing. As O'Donohue would say… "it's time to cross…"

This is not an easy crossing, because the pandemic is also threatening the beacons of economic growth for the continent which is now projected to go into a recession for the first time in 25 years. We need leaders, formal and informal, to break the real and perceived shackles of corruption on the continent and remove barriers to collaboration and investment. Shall we finally link head, hearts and hands and our vast resources, with a focus on our regional and continental advancement and lead the way? Shall we find the grit and courage to reverse our dependence on foreign agents and corporations to work for a more prosperous Africa? As Winne Byanyima reminds us: "Inequality & extreme poverty are not inevitable. Africa is ready to rise. Our largest, best-educated generation ever is coming of age ready to power Africa's progress." The road ahead may seem daunting, but it is one we must travel to take ownership of our narratives and the future of Africa and the world. And it starts with every single one of us leading from where we are.